Professional Home Inspection Reports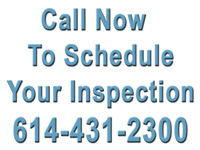 We know what you need. A thorough, easy to read and understand report that is delivered in writing the same day as the inspection.
Our Inspection Reports Are Thorough
We meet or exceed InterNACHI's standards of practice and code of ethics for home inspections. From the roof and attic to the basement and crawl space and everywhere in between, we will inspect your home as if it were our own. Your inspection includes: the roof, gutters, downspouts, chimney, flashings, eaves, soffits, fascia, attic, ventilation, insulation, decks, porches, walkways, railings, garage doors, openers, trim, siding, grading, drainage, doors, windows, walls, floors, vents, fireplaces, outlets, sinks, toilets, drains, basement, foundation, crawlspace, sump pump, appliances, furnace, central air, water heater, plumbing system, electrical system, electric panels, grounding, and much more!
Our Inspection Reports Are Easy to Read and Understand
Our reports are designed and written with you in mind. The inspection report is organized by trade not location ( all electrical, plumbing, and HVAC issues are grouped together ). Each discrepancy listed includes a non-technical description, a detailed location, and a photo.
Our Inspection Reports Are Delivered Same Day
At the completion of your inspection, we will review your inspection with you and email you and your agent the full report by the end of the day.
A Separate Customized Homeowner's Manual Is Also Included
This customized Homeowner's Manual includes the model number, serial number, and manufacture date of the furnace, AC unit, water heater, and all appliances transferring with the property. It includes your furnace filter size, gas, water, and electric emergency shut off locations, a seasonal maintenance schedule, and many tips to help you maintain and protect your home.
Additional Services
In addition to the general home inspection, we recommend a radon test and wood destroying insect ( termite ) inspection. Your inspector, Jim Maurer, is licensed by the State of Ohio to do both radon testing and termite inspections.
We serve the Central Ohio Area including: Columbus, Worthington, Dublin, Westerville, Bexley, Dublin, Gahanna, Grandview Heights, Grove City, Groveport, Hilliard, New Albany, Pickerington, Reynoldsburg, Upper Arlington, Whitehall, Powell, Blacklick, and Clintonville. If your area is not listed, please call us and ask.