Keep Your Home Healthy With This Fall Check-up
By: Jim Maurer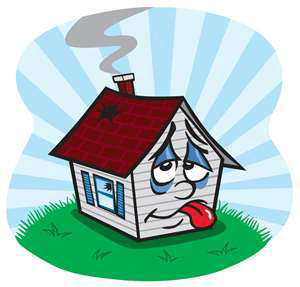 Quarterly home 'check-ups' will help prevent costly repairs, keep your home safer, and everyone inside it healthier. Check out our list of Fall preventative maintenance tips.
Clean the gutters after the last leaves have fallen. Check, especially over the downspouts, even if you have gutter guards as no system works perfectly.
Check your downspouts. Downspouts should be dumping the water at least three feet from your foundation. If your downspouts empty into underground drain pipes, check the visible part of the drainpipe for cracks and breaks and make sure the downspout is properly inserted in the pipe.
Disconnect and empty your garden hoses. Water left in garden hoses can freeze creating leaks. Most spigots are freeze proof, but leaving a hose connected could trap water that may freeze and burst your pipes.
Have an HVAC contractor do an annual service/check of your furnace. If you do this before temperatures fall below 60, your AC unit can be checked too. This will ensure your furnace is running efficiently and safely.
Vacuum the dust from your bathroom ceiling vents. Pull the cover down and vacuum the inside and motor too. Accumulated dust can be a fire hazard.
Clean lint from dryer vent exhaust cover on the outside of house. The vent cover attracts lint which can be a fire hazard. Lint can also prop the vent door open allowing cold air and pests to enter your home. Also, turn the dryer on and make sure you have good airflow to the exhaust vent.
Here are a few more items you should do at least once a quarter.
Test smoke and CO alarms. Did you know manufacturers only deem these alarms reliable for ten years? Some carbon monoxide alarms are only good for five years. If you think yours might be older than ten years, replace them. If you have a gas furnace or water heater, add a carbon monoxide alarm if you don't already have one.
Inspect your furnace filter. If you see dirt or it is broken or deformed, replace it. If it is a one inch thick filter and older than three months, replace it. If it is a four inch filter and older than six months, replace it. Your furnace will run much more efficiently with a clean filter.
Clean your range hood filter. These are often built in to the bottom of your microwave. If you use your range hood fan, the filter probably needs cleaned. Sometimes these can be cleaned in the dishwasher. If it is really dirty, try oven cleaner.
Inspect your fire extinguisher ( must still be in green ). What? You don't have a fire extinguisher? This is an invaluable piece of safety equipment. Find a place in the kitchen that is easily accessible to store it. Four million Kidde home fire extinguishers were just recalled ( 11/2/2017 ). Check here to see if yours are affected. https://www.consumerreports.org/fire-extinguishers/kidde-fire-extinguisher-recall/
Check your sump pump. In my opinion, this is one of the weakest links in your home. It is not IF the pump will give out, it is WHEN. Water should not be over the top of the motor housing. If you can find it, try gently lifting the float on the float switch to make sure it kicks on. Consider adding a moisture alarm ( maybe even one hooked up to your alarm system ) for an early indication of a problem.
Run water and flush toilets in unused spaces. Traps can dry up allowing sewer gas to enter your home.
Check the fan indicator on your radon mitigation system. The manometer tells you if your fan is working. All you need to do is make sure the two water levels are different. If they are the same, your fan ( and your radon mitigation system ) is not working.
As a home owner, you know homes require a lot of work to maintain, but a little preventative maintenance will go a long way to keeping you and your home happy and healthy.
Click here for a printable checklist.
This article was written my Jim Maurer, a home inspector in the Columbus OH area. Have questions about the article or know someone who needs a home inspection? Call Jim at 614-431-2300.
Like this article? Find more articles here.
Follow us on Facebook to be notified of new articles.